This is our last Ingate until our meetings resume after the summer hiatus.  We have a tentative schedule of programs coming up starting in September.  The programs will be finalized after our June Annual Meeting and the new Program Committee is in place.  (See tentative program further down)
We are looking for new members to sit on the Board of  Directors.  If you are interested contact our outgoing Chairman, John Papaioannou at johnp@optaminerals.com.
Your Board of Directors hopes you have a happy and prosperous summer.
DON'T FORGET THE AFS ONTARIO
ANNUAL GOLF CLASSIC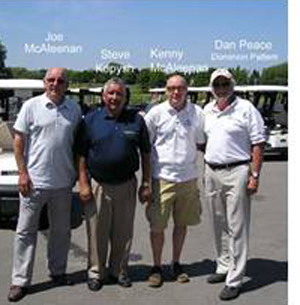 Friday, June 6th, 2014
Willow Valley Golf Club
8475 English Church Rd. Hamilton, ON
$150 per Person Includes – Cart, Late Lunch & Prizes
9:00am Shotgun Start
Register at afsontario@bell.net
Also see attached registration and directions
MARCH HIGHLIGHTS
This was our AFS/CFA Scholarship and past Chairman's Night with the highlight being the awarding of scholarships. A total of 11 awards were presented to students from Mohawk College and Ryerson University and distributed to students who have made excellent academic achievements and are interested in a metal casting future.
The AFS Ontario Chapter was pleased to award scholarships to Raymond Griffin of Mohawk College and to Jarrod Schwartz and Hamideh Hosseinabadi, both from Ryerson University.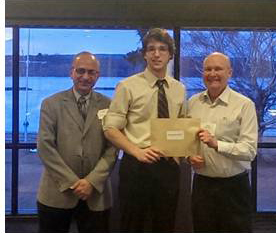 Left to right: Prof. Ravi Ravindran, Ryerson University, Raymond Griffin, Mohawk College, Prof. Brad Bowman, Mohawk College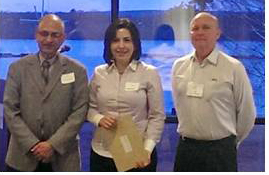 Left to right: Prof. Ravi Ravindran, Ryerson University, Hamideh Hosseinabadi, Ryerson University, Prof. Brad Bowman, Mohawk College
Professor Brad Bowman of Mohawk College presented five Mohawk FEF awards to Pieter Johnston, Raymond Griffin, Stephen Kurmey, Lionel Maia and Nikolai Melnik.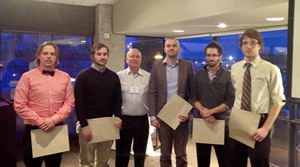 Left to right: Pieter Johnston, Lionel Maia, Prof. Brad Bowman, Nikolai Melnik, Stephen Kurmey, Raymond Griffin
The Non Ferrous Foundry Society presented the Roy Butler Memorial Scholarship to Hamideh Hosseina Badi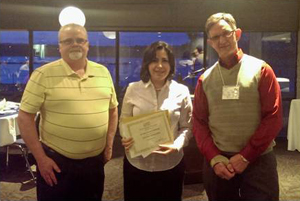 Left to right: Joe Butler, retired, Hamideh Hosseinabadi, Ryerson University, Dana Coulombe, FEF Canada/CFA Liaison
The CFA presented Suleman Ahmad with the FEF Canada MFTI Scholarship as well as the CFA Past Presidents Award.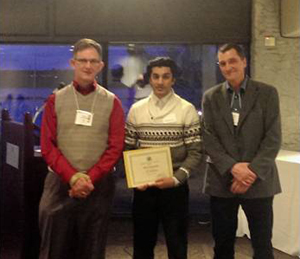 Left to right: Dana Coulombe, FEF Canada/CFA Liaison, Eli Vanderluis, Ryerson Universityaccepting on behalf of Suleman Ahmad, Ryerson University, Peter Clark, President CFA
Five of our past Chairmen were recognized during dinner for their work with the chapter. They are Tim Smelko, Dana Coulombe, Stephen Kopysh, Eric Porter and Brad Bowman.
Peter Clark, President CFA, gave a brief report on their Issues Meeting held during the day. The Industry is facing a number of challenges and hurdles in terms of health and safety. There are also issues forthcoming on the environmental front. The good news is the CFA is keeping on top of these issues to help members deal with them.
Guest Speaker Jeff Herdman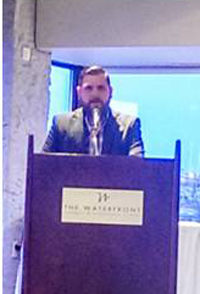 Jeff is the Sales Manager for Ancast Industries in Winnipeg. Prior to his transfer from Hamilton, Jeff was on the Ontario Chapter Board of Directors. As a Mohawk College graduate and an FEF and AFS Scholarship winner he was an appropriate speaker for the night. He related how the scholarship helped peak his interest in the foundry industry and how his 10 year journey has been a very positive experience. Seeing the diverse range of castings produced not only by Ancast but also within the industry as well as the new processes and procedures provides constant interest. With new technology such as 3D printing and Cad modeling the future looks even more interesting. With the FEF and AFS promoting the industry the future looks bright for new graduates.
FEF Canada
Eric Porter gave a brief report on the Foundry Education Foundation Canada (FEF Canada). FEF Canada is now a registered charity in Canada. Its purpose is to provide Scholarships, bursaries and other financial support for students in registered foundry related courses. The FEF Canada allows Canadians to make charitable donations in support of the financial future of foundry men and women. There are numerous ways to donate either as a company  or as an individual. The Foundation can issue charitable receipts for all donations.
ADDITIVE MANUFACTURING FACILITY
Work on the Additive Manufacturing Research facility at Mohawk College is underway with the installation of equipment scheduled for the first half of 2014.  People interested in obtaining more information or wanting to participate once the facility is completed can contact the Dean of Engineering Tony Thoma.  His email address is
NRCan LIBRARY
Did you know we have a great resource here in Southern Ontario? It is the NRCan Library located in the Canmet MATERIALS Laboratory in the McMaster Innovation Park (MIP), 175 Longwood Road S. in Hamilton. This library location specializes in materials technology including metal castings.
The library provides the following services to the public:
On-site use of collections (i.e. books, journals, reference materials)
On-site access to subscription e-resources and e-journals
Reference assistance (by appointment only)
The library is open Monday – Friday australian online casinos from 8:30 am – 4:30 pm.
The NRCan Library, Hamilton can be reached by phone: 905-645-0651  or by email: alana.pollock@nrcan.gc.ca
For other information (forestry, earth sciences, mining) visit the NRCan Library website: http://www.nrcan.gc.ca/library/171
The AFS Ontario Library has been donated to The NRCan Library. You can access all materials there.
YOUR ELECTRONIC INGATE
Note:  As long as we have your correct email address you should get your copy of the Ingate. If you or if anyone you know who is a paid up member of the Ontario Chapter did not receive their issue of the Ingate please contact us at afsontario@bell.net
ROSTER CORRECTIONS
We ask that you check your membership roster for errors. Please note that the information in the roster is detail we receive from AFS headquarters in Chicago. We can assist with any corrections by contacting our Membership Chairman, Vince Skinner and he will forward to the Chicago office. You can email Vince with your changes at vskinner@penalloy.com
AFS ONTARIO WEB SITE
We have a new look and new features on our web site. By checking our site you can keep abreast of what is happening with our chapter. It also allows you to quickly access our sponsors' web sites. As always we are open to your suggestions for improvements both with our web site and the Ingate. You can send your comments to afsontario@bell.net
METALCASTING CONGRESS
The American Foundry Society announces attendee registration is now open for the 118th Metal Casting Congress to be held at the Renaissance Hotel and Convention Center in Schaumburg, Ill. For more information go to www.metalcastingcongress.org.
SPRING 2014 COURSE/CONFERENCE CALENDAR
May 13–15  – A Hands On Introduction to Metalcasting, Pittsburg, KS
May 13 – Aluminum 101, Cleveland, OH
May 14–15 – Aluminum Melting 201, Cleveland, OH
May 28 – Sustainability Conference, Schaumburg, IL
June 3–4 – Casting Supplier Auditing, Denison, TX
June 11–12 – Nobake Molding & Coremaking 201, Blacksburg, VA
Jun 18-19 – Gating & Riser Design, Schaumburg, IL
June 24-25 – Metallography and Testing of Aluminum Alloys, Wixom, MI
June 25-26 – Casting Defect Analysis, Schaumburg, IL
For more information go to www.afsinc.net
CMI Course Schedule
** For more information please visit www.afsinc.org and click on "Cast Metals Institute". The Cast Metals Institute provides intensive, specialized education for metal casters by metal casters. Since its beginning in 1957, CMI has presented over 3,000 courses to 65,000 participants representing nearly 5,000 individual companies – dramatic evidence of the acceptance of CMI as a vital contributor in the continuing development of foundry personnel.
AFS ONTARIO CHAPTER 2014– 2015 TENTATIVE PROGRAM
DATE
TOPICS
SPEAKERS
TECH CHAIR
Location
Sept. 2014
AFS/CFA
TBA
WCC

Oct. 2014
3D Printing
Tours
Mohawk College
Nov. 2014
Fun 'n Games Night
WCC
Jan. 2015
TBD Seminar
Feb. 2015
Tour
Mar. 2015
Scholarship/Past Chairman's Night
Joint AFS/CFA
WCC
June 2015
AFS Golf Classic
Golf Committee
Willow Valley