Our Next Meeting is Thursday February 26, 2015
Time:  1:00 pm
Place: Linamar Plant Tours, 700 Woodlawn Road West,
Guelph, Ontario
Cost: $20.00,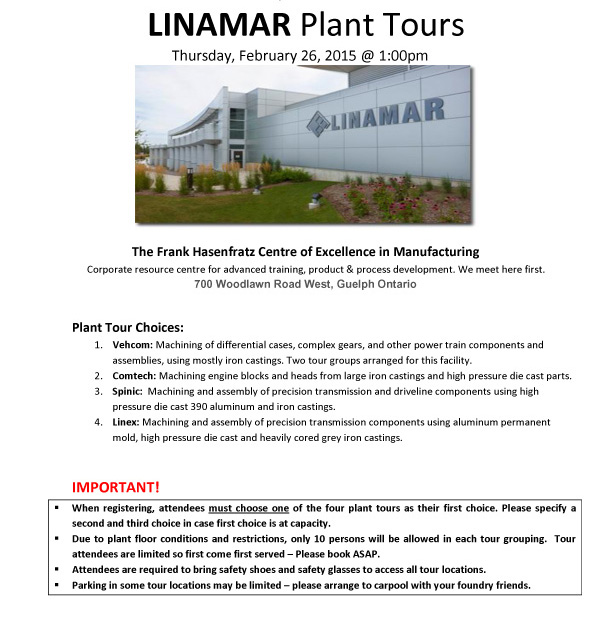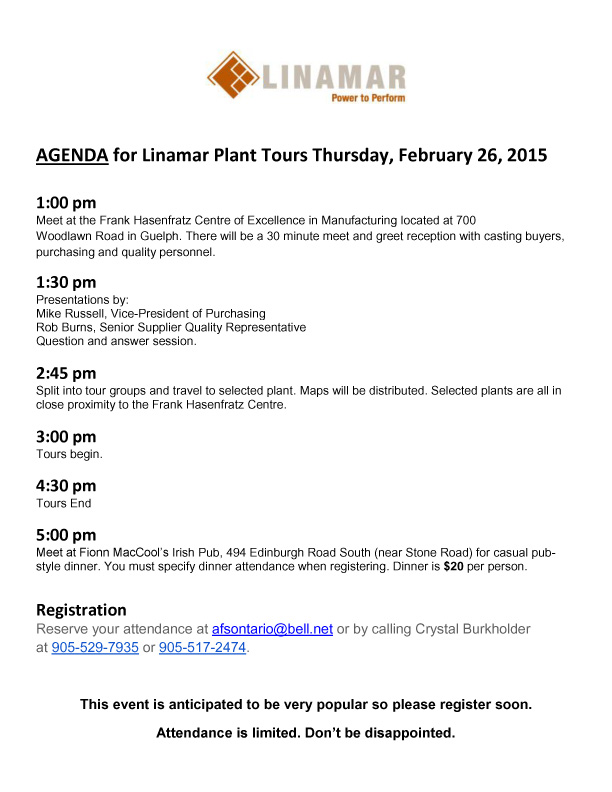 JANUARY HIGHLIGHTS
Twenty people attended the technical meeting in January hosted by CANMET Materials on Chemical Analysis in a Foundry.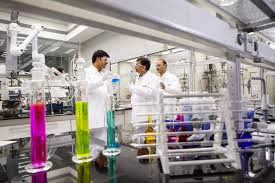 Ken Suddaby discussed different types of equipment for chemical analysis to foundries and the pros and cons of each. PMT vs CCD technology for OES arc spark was also reviewed and compared.
Ken provided detailed troubleshooting methods and experience for the running of arc spark equipment in a foundry environment.
Peter Newcombe and David Saleh reviewed the Chemical Analysis capability Capabilities and some R&D activities at the CANMET Materials Laboratory. Peter explained the move and transition between Ottawa and Hamilton and the start-up.
Peter discussed the making of standards and the requirement to develop new and unique standards along with calibrated curves for over 60 types of different metals produced at Canmet.
Peter also discussed troubleshooting of equipment and ASTM Proficiency testing that CANMET takes part in.
Rob Logan discussed the Iron Casting Research Institute collaborative interlaboratory studies for gray and ductile standards that is conducted twice per year through the ICRI membership foundry members.
The post meeting Pub Style gathering at Kelsey's was enjoyed by all who attended.
Upcoming Meetings
Don't forget our Annual Scholarship Awards Night March 19, 2015
This is our joint AFS/CFA meeting and scholarship night. This is also the night we recognize our past Chairmen.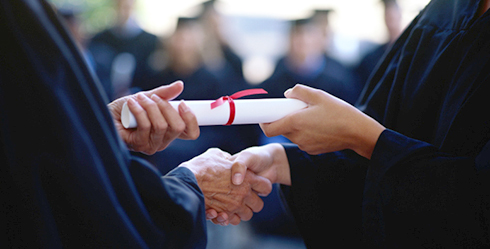 Location: Waterfront Conference Centre,
55 Bay Street North, Hamilton, ON
Time: Reception and Cash Bar commences at      5:30 PM
Dinner – 6:30 PM
Congratulations to our Chapter Chairman, Kumar Sadayappan
AFS Institute Certifies 8 More Instructors
February 9, 2015
The AFS Institute has recently certified an additional eight instructors as part of its Certified Instructor program. These individuals have signed on to support the Institute's goal of providing high quality courses not just through its content, but through effective delivery, of which the instructors are an integral part. The AFS Institute appreciates their support, as well as that of their company.
The newly certified instructors are Doug DeSmit, ASK Chemicals; Nick Fox, Galesburg Castings; Ed Marczyszak, Burndy Foundry; Kumar Sadayappan, CanmetMATERIALS; Ted Schorn, Enkei America Inc.; Jerry Thiel, University of Northern Iowa; Jack Travis, JET Technologies, Inc; and Dave Williams, ASi International.
To become certified, applicants must participate in Train-the-Trainer coursework and teach at least one course module to demonstrate ability to implement skills taught. After certification is granted, coaching and feedback is provided to all instructors regularly and then minimum evaluation scores are required at the end of each certification cycle in order to continue teaching for the Institute. This program is part of a $1 million investment in raising course content quality at the Institute. Eighteen individuals have now completed the Certified Instructor program.
Headquartered in Schaumburg, Ill., AFS is a not-for-profit technical and management society that has existed since 1896 to provide and promote knowledge and services that strengthen the metalcasting industry for the ultimate benefit of its customers and society. The AFS Institute, formerly Cast Metals Institute, hosts practical courses, seminars and workshops on all metalcasting processes, materials and disciplines, both in-person and onsite at AFS headquarters, in-plant seminars and online.
NRCan LIBRARY
Did you know we have a great resource here in Southern Ontario? It is the NRCan Library located in the Canmet MATERIALS Laboratory in the McMaster Innovation Park (MIP), 175 Longwood Road S. in Hamilton. This library location specializes in materials technology including metal castings.
The library provides the following services to the public:
On-site use of collections (i.e. books, journals, reference materials)
On-site access to subscription e-resources and e-journals
Reference assistance (by appointment only)
The library is open Monday – Friday from 8:30 am – 4:30 pm.
The NRCan Library, Hamilton can be reached by phone: 905-645-0651  or by email: alana.pollock@nrcan.gc.ca
For other information (forestry, earth sciences, mining) visit the NRCan Library website: http://www.nrcan.gc.ca/library/171
The AFS Ontario Library has been donated to The NRCan Library. You can access all materials there.
YOUR ELECTRONIC INGATE
Note:  As long as we have your correct email address you should get your copy of the Ingate. If you or if anyone you know who is a paid up member of the Ontario Chapter did not receive their issue of the Ingate please contact us at afsontario@bell.net
ROSTER CORRECTIONS
We ask that you check your membership roster for errors. Please note that the information in the roster is detail we receive from AFS headquarters in Chicago. We can assist with any corrections by contacting our Membership Chairman, John Papaioannou and he will forward to the Chicago office. You can email John with your changes at johnp@optaminerals.com
AFS ONTARIO WEB SITE
We have a new look and new features on our web site. By checking our site you can keep abreast of what is happening with our chapter. It also allows you to quickly access our sponsors' web sites. As always we are open to your suggestions for improvements both with our web site and the Ingate. You can send your comments to afsontario@bell.net
CMI Course Schedule
** For more information please visit www.afsinc.org and click on "Cast Metals Institute". The Cast Metals Institute provides intensive, specialized education for metal casters by metal casters. Since its beginning in 1957, CMI has presented over 3,000 courses to 65,000 participants representing nearly 5,000 individual companies – dramatic evidence of the acceptance of CMI as a vital contributor in the continuing development of foundry personnel.
AFS Internship Update
During the past year the AFS Ontario Chapter initiated a trial internship program with a total funding of $2000.00
Ray Griffin a Mohawk Student was the recipient of this internship and the monies were used to help him relocate to Ancast Industries at their location in Winnipeg.
The main thrust of the program is to allow Foundries who are not located close to educational facilities to offer opportunities to attract students to their facilities.
The funds are used for relocation of the student (i.e. Transportation) and rental accommodation costs. In this way the student can basically bank the money earned at the Foundry.
Our first trial program was successful and the AFS Ontario Chapter is going to expand the program to two internships of $2000.00 each in the 2014-2015 year.
The AFS Ontario Chapter is now soliciting submissions from companies involved in metal casting activities who would be interested in taking advantage of the internship program.
If your company is interested in participating in the program please send an email stating your interest to the AFS Ontario Chapter at afsontario@bell.net