Our Next Meeting is Thursday February 27, 2014
Location: New Hamburg, Ont.
Tour: Riverside Brass & Aluminum Foundry Ltd. and
H.D. Patterns & Matchplates Inc.
Tour starts at Riverside Brass at 2:30 pm.
Riverside Brass & Aluminum Foundry Limited Specializes in High Volume and Tight Tolerance Non-Ferrous Industrial & Centrifugal Castings, Plaques & Cemetery Memorial Products
Riverside Brass is a respected leader and innovator among Ontario"s non-ferrous foundries, providing advanced capabilities in brass, bronze, aluminum, and zinc castings. We can advise you on product design, casting optimization, choice of alloys, and the cost saving advantages of our manufacturing process.
H.D. Patterns & Matchplates Inc. The company was founded by Herb Deutschmann, who has 50 years of industry experience.
The revolutionary ACM Rapid Molder was invented and developed by H.D. Patterns & Matchplates Inc. Inspiration for the machine came from the realization that with traditional technology, like Chemical Bonded Sand there are limitations to how productive two people could be in a regular 8-hour shift. In a single day, one person with one Rapid Molder can produce more molds than four people who are using traditional methods.
Note: The capacity for the tour is 36 people, so book your reservation early. We ask all members and guests for your assistance in reserving your spot no later than 4:00 pm Monday, February 24th, 2014. Please include the names of the people attending and indicate if staying for dinner.
Dinner: 5:00 pm
Cost is $20.00 for "Pub Fare" at the Waterloo Arms, 338 Waterloo Street, New Hamburg N3A 1T6
Contact Crystal Burkholder at 905-544-2505, 905-529-7935, or email afsontario@bell.net for reservations.
JANUARY HIGHLIGHTS
We had a great turn out to our January technical seminar at Canmet. We had three presentations from three different areas of the metal casting industry, from scrap metal to the finishing area.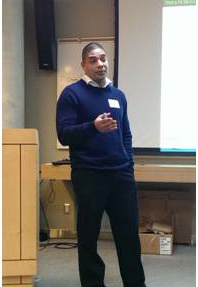 The first speaker was Andre Montrichard from Triple M Metal; he spoke about the scrap supply chain, and the influences that drive the market price for scrap. Andre also touched on the outlook for scrap prices for 2014, and the challenges for the scrap metal suppliers for the years to come.
The second speaker was Gary Pope C.E.T from W. Abrasives; Gary explained how they produce high quality steel grit/shot and the challenges that come along with its production. W. Abrasives currently have two factories in North America, and are looking to open a third one in the near future.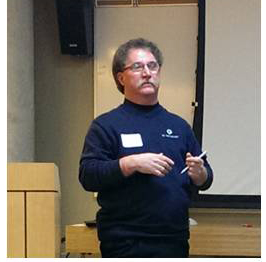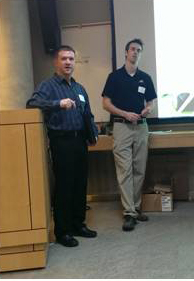 The last speakers are currently employees of Wescast Industries Brad Skirten and Mike Trotter. They presented us with their problem solving method of removing risers and gates, through the use of automation. As a result of their efforts they managed Dans cet article, nous allons faire le pointLe Poker est actuellement un des jeux casino gratuit de cartes les plus populaires du monde. to cut the amount of workers in the grinding room, and to make it safer and more ergonomic for the employees working the grinding area, as well as an increase the productivity.
We would like to thank Canmet for hosting and the presenters for sharing with us your area of expertise. We hope to see everyone out for the next technical seminar.
** NEW INFORMATION FROM YOUR CHAPTER**
AFS Ontario Chapter Internship Bursary
February 2014
The AFS Ontario Chapter Internship Bursary provides financial assistance to students who take a Co-op or Internship position with a Metalcasting Company requiring that he/she must live away from home. The Company must be an active supporter of the AFS Ontario Chapter.
The purpose of the internship is to attract quality graduates to our industry and is open to students who have successfully completed at least 2 years of a 4 year university Engineering or Science program, or 2 semesters of a six semester College program in the Technology field.
Applications for the Bursary are to be made to the Scholarship Committee of the AFS Ontario Chapter and can be initiated by: individual students; faculty from post-secondary education institutions in Ontario; and Metalcasting Companies.
Bursaries will be awarded by the Board of Directors of AFS Ontario, based on recommendations forwarded by the Scholarship Committee.
One $2,000. internship will be provided in 2014 as a test case, and upon review, by the Board, the program could be offered again in 2015.
ADDITIVE MANUFACTURING FACILITY
Work on the Additive Manufacturing Research facility at Mohawk College is underway with the installation of equipment scheduled for the first half of 2014.  People interested in obtaining more information or wanting to participate once the facility is completed can contact the Dean of Engineering Tony Thoma.  His email address is
NRCan LIBRARY
Did you know we have a great resource here in Southern Ontario? It is the NRCan Library located in the Canmet MATERIALS Laboratory in the McMaster Innovation Park (MIP), 175 Longwood Road S. in Hamilton. This library location specializes in materials technology including metal castings.
The library provides the following services to the public:
On-site use of collections (i.e. books, journals, reference materials)
On-site access to subscription e-resources and e-journals
Reference assistance (by appointment only)
The library is open Monday – Friday from 8:30 am – 4:30 pm.
The NRCan Library, Hamilton can be reached by phone: 905-645-0651  or by email: alana.pollock@nrcan.gc.ca
For other information (forestry, earth sciences, mining) visit the NRCan Library website: http://www.nrcan.gc.ca/library/171
The AFS Ontario Library has been donated to The NRCan Library. You can access all materials there.
YOUR ELECTRONIC INGATE
Note:  As long as we have your correct email address you should get your copy of the Ingate. If you or if anyone you know who is a paid up member of the Ontario Chapter did not receive their issue of the Ingate please contact us at afsontario@bell.net
ROSTER CORRECTIONS
We ask that you check your membership roster for errors. Please note that the information in the roster is detail we receive from AFS headquarters in Chicago. We can assist with any corrections by contacting our Membership Chairman, Vince Skinner and he will forward to the Chicago office. You can email Vince with your changes at vskinner@penalloy.com
AFS ONTARIO WEB SITE
We have a new look and new features on our web site. By checking our site you can keep abreast of what is happening with our chapter. It also allows you to quickly access our sponsors' web sites. As always we are open to your suggestions for improvements both with our web site and the Ingate. You can send your comments to afsontario@bell.net
METALCASTING CONGRESS
The American Foundry Society announces attendee registration is now open for the 118th Metal Casting Congress to be held at the Renaissance Hotel and Convention Center in Schaumburg, Ill. For more information go to www.metalcastingcongress.org.
ANNUAL CASTING COMPETITION
AFS and Metal Casting Design & Purchasing Magazine are seeking entries to the 2014 Casting Competition. The competition is a chance to show the engineering and purchasing community what a metal casting can accomplish. For more information go to www.afsinc.org/castingcompetition.
INDUSTRY CALENDAR 2014
March 5-6 – Casting Design, AFS and The Institute
March 12-13 – Casting Defect Analysis, AFS and The Institute
March 19 – Cast Iron 101, AFS and The Institute
For more information go to www.afsinc.net
CMI Course Schedule
** For more information please visit www.afsinc.org and click on "Cast Metals Institute". The Cast Metals Institute provides intensive, specialized education for metal casters by metal casters. Since its beginning in 1957, CMI has presented over 3,000 courses to 65,000 participants representing nearly 5,000 individual companies – dramatic evidence of the acceptance of CMI as a vital contributor in the continuing development of foundry personnel.